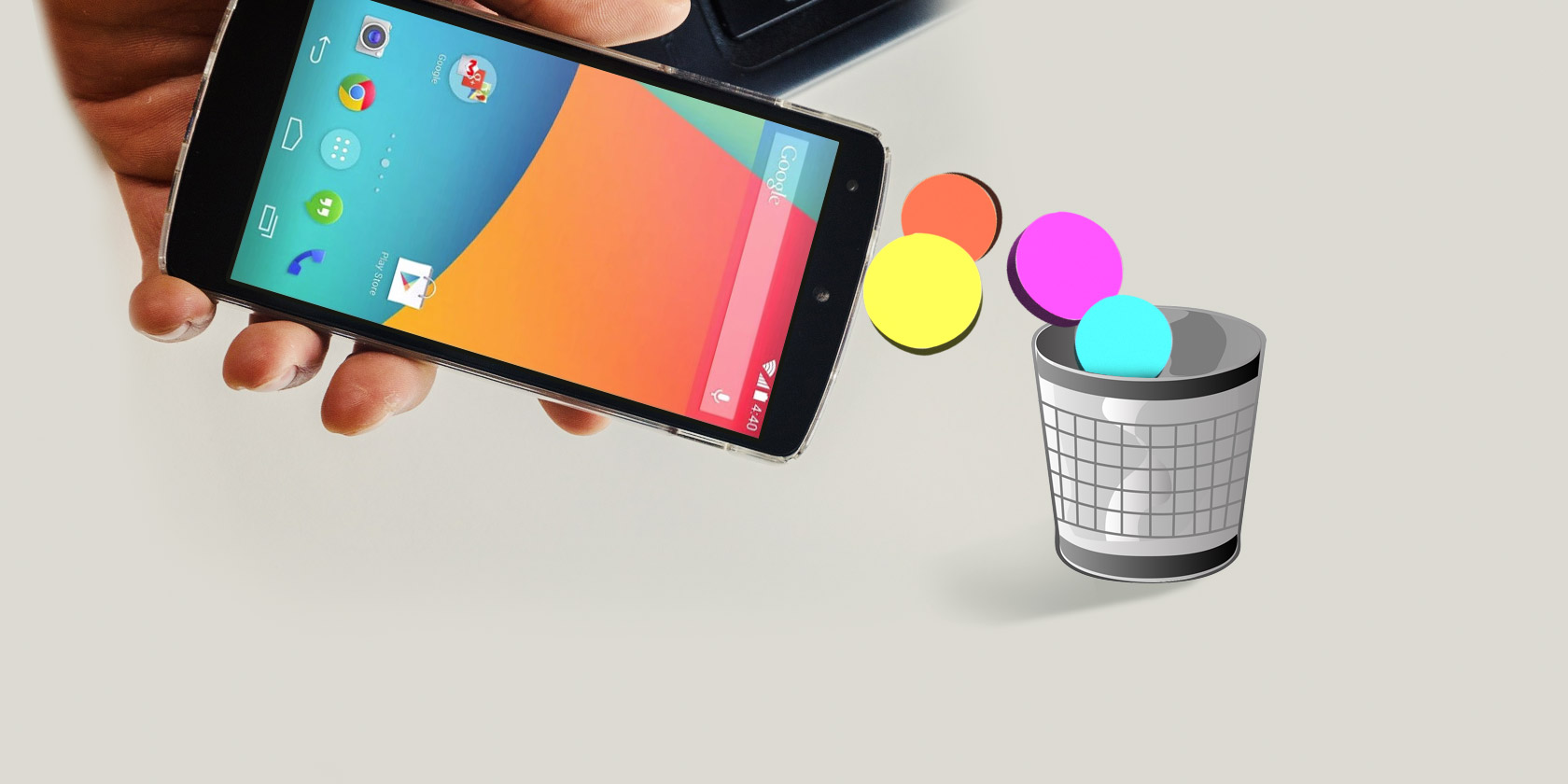 Annoyed by an Android app that you can't uninstall?
The app you're trying to remove probably came preinstalled on your device. It might have been provided by the manufacturer, your mobile network, or as a part of Android itself.
Don't be discouraged; you can still remove unwanted system apps from Android. It's tricky, but not impossible. We'll show you how.
Reasons to Remove Preinstalled Android Apps
Before you start deleting apps, you should spend a few moments considering just why you want to get them off your phone.
Reasons why you might want to remove the app include:
Preinstalled apps and games are considered bloatware
You're wasting storage with apps you don't use
The phone's battery is running out faster than it should
Apps and games are eating into your data allowance
Preinstalled apps and games might be malware, recording and/or uploading personal information
Unfortunately, removing these apps isn't as easy as it could be. It depends on whether you've rooted your Android device or not.
Options for Non-Rooted Devices
Deleting preinstalled apps isn't possible in most cases. But what you can do is disable them.
To do this, head to Settings > Apps & notifications > See all X apps. Select the app you don't want, then tap the Disable button. This will revert the app to its initial version and block it from showing up on your phone. It stays installed and takes up space, but will never run.
However, this won't work for all apps. In older Android versions, you could open your app drawer and simply hide apps from view. These days, it's a lot tougher.
Fortunately, you can at least tidy up preinstalled bloatware apps and games from your home screen. Long-press an app icon and drag it to the Remove from home screen box at the top of the screen. This may vary depending on your version of Android.
Well done; you've hidden the app (although it remains installed on your phone).
Prefer to hide the app altogether? A replacement launcher is ideal for hiding apps, and it's easier than rooting your phone. Most third-party launchers let you remove any app from the list. But remember that it will still be on your phone, hidden away in the background.
Check out our favorite Android launchers for some recommendations.
Rooted? Try These Bloatware Removal Tools
Rooted, or considering rooting your phone? If so, removing bloatware is easy using these utilities.
1. Titanium Backup
The first app you might think of for dealing with unwanted apps on your Android device is Titanium Backup. It can handle any app you throw at it, whether downloaded from Google Play or preinstalled.
The free version features tools to backup and uninstall apps, while the paid version delivers dozens of additional features.
Titanium Backup has so many features that it can seem difficult to use at first. After launching, give it root permission, then tap the area describing the device storage. Once the list of apps compiles, scroll through to find the one(s) you want to remove. Select them, then tap Uninstall.
Deleting bloatware, freezing apps, and more is possible with the pro version of Titanic Backup. It's so powerful, it made our list of the best root apps for Android.
Download: Titanium Backup (Free) | Titanium Backup Pro ($ 6)
2. NoBloat Free
Offering the option to disable and enable system apps, NoBloat Free also includes an app deletion tool. This gives you the ability to create backups of system apps and restore them.
All this means NoBloat Free is the best option for root users who just want to get rid of bloatware. You won't be distracted with endless additional features; NoBloat does the job simply.
The premium version gives you enhanced features such as blacklisting system apps, batch operations, and exporting settings.
Download: NoBloat Free (Free) | NoBloat ($ 2)
3. System App Remover
This app offers an easy way to erase and move system apps. System App Remover provides a useful classification system that quickly identifies the apps you can remove. As some might be system apps, and vital to Android, this is pretty useful.
System App Remover is ad-supported and performs the removal process quickly.
Along with this key feature, the tool supports moving apps to and from your SD card in bulk. You can also manage APKs and track down older app versions.
Download: System App Remover (Free)
The Nuclear Option: Install a Custom ROM
There is one other solution for removing unwanted apps from your Android device: flash a custom ROM. While most people don't need a custom ROM anymore, they can prove useful in cases like this.
While it might take a bit of research to find out which new ROM will fulfill your needs, the solution can leave you with a stripped-back version of Android that you can keep particularly close control of.
Looking for a custom ROM designed for users with an eye on performance and privacy? Copperhead and Omnirom are two good options for your rooted Android device. After you've selected one, follow our guide to installing a custom Android ROM.
If you do opt for a custom ROM, check first that it's not going to add its own bloat to your phone.
What's Your Choice for Removing Apps?
We've looked at several options, but how you remove unwanted Android apps really depends on whether you can root your phone.
To recap, the full set of options are:
Delete or disable apps if possible
Use root-enabled apps that can delete system apps
Abandon your current ROM in favor of a custom ROM
Remember, if you just need to free up space, consider moving apps to your SD card.
Read the full article: How to Remove Unwanted Apps on an Android Device