Finally, got an invitation to join Clubhouse? You're not done yet. Learn how to supercharge the Clubhouse experience with these sites, apps, and tips.
The trendiest new app around is Clubhouse, an audio-only social network without ads or algorithms. Users create and join "rooms" to chat about a topic, with hosts or expert speakers often holding court while others listen in. As it gains more popularity, you should learn how to use Clubhouse and maximize its potential, as well as solve its biggest annoyances and restrictions.
1. Clubhouse Guide (Web): The Beginner's Guide to Using Clubhouse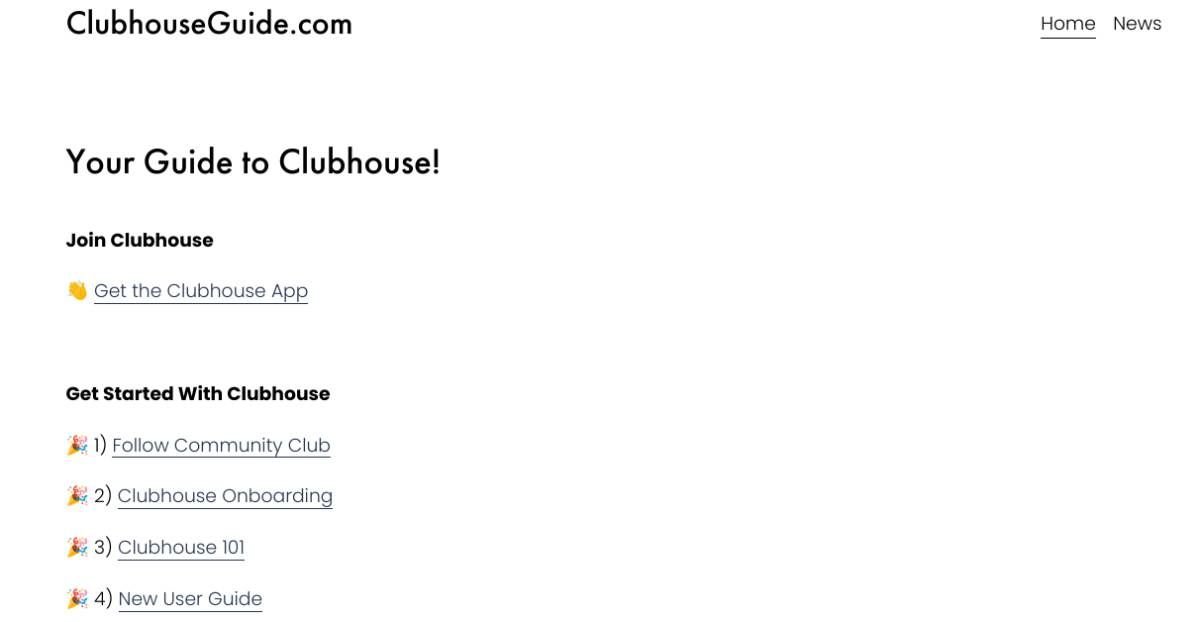 Apps can try to be as intuitive as possible, but everyone needs help with some aspects. If you got Clubhouse but don't get what the fuss is all about, Clubhouse Guide will show you how to unlock its full set of features.
Instead of relying only on Clubhouse's official documentation, Clubhouse Guide gathers the best explainers and articles written by others. You'll find links to parts of Substack newsletters, Notion and Medium posts, tweets, and other helpful resources.
The guide itself breaks it down into a step-by-step list of topics, each with sub-topics: join, getting started, clubs, events, audio, news, info, community, and support. It's especially useful to understand Clubs, the "group" feature in Clubhouse to create your own mini-communities. And you'll get a link to schedule major Club events too.
2. Host Notes for Clubhouse (Web): Powerful Pages for Upcoming Clubhouse Events
When you create an event on Clubhouse, there's only a little bit of description that the app lets you add. Instead, use Host Notes to create a powerful landing page that you can fill with useful information and share on social media. Here are just some of the features Host Notes lets you add to an event page:
Link and Sync: Link to your upcoming Clubhouse room and sync event details the app. Any changes you make to the title or description in the app will reflect in Host Notes.
Speakers: Invite the speakers who will be hosting the event, and add details like their Twitter, Instagram, Cashapp, and Venmo IDs. That way, attendees can look them up before the event.
RSVP: Ask users to register for the event and confirm participation, in case you want to keep it a short number or require a minimum guarantee.
Agenda: Set an agenda for the event, so that people know what you'll be covering and at what time.
Community Rules: Lay down guidelines in advance rather than going over them during the event, ensuring everyone is on the same page.
Links and Resources: Share data relevant to the talk, such as URLs, video and image links, files like docs, PDFs, PPTs, and spreadsheets, etc.
Comments: A space for anyone to comment on the event, and ask questions too.
3. AskClubhouse (Web): Written Questions for Clubhouse Rooms, With Voting
Clubhouse is all about audio chats and doesn't encourage text chats at all. This can be a bit problematic when you're in a large room and want your audience to participate. Ask Clubhouse is a simple app to create a space for anyone in your room to send written questions.
Here's how it works. After you've created a room on Clubhouse, go to Ask Clubhouse and create a new "board." Give it a title, description, and add your room's URL. Based on the title, Ask Clubhouse creates a unique slug for you that's appended to the end of the link. Share this link on your room's description, or use a small enough slug that you can say out clearly in your room for participants to use it on their computers. For example, a simple slug like "ask-MUO" would be something you can repeat regularly for anyone joining.
Once a participant visits the board, they can write questions and view others' queries too. People can also vote on questions so that the most popular ones rise to the top and grab the speaker's attention.
4. Clubhouse Bio Creator (Web): Create a Beautiful Clubhouse Bio in a Browser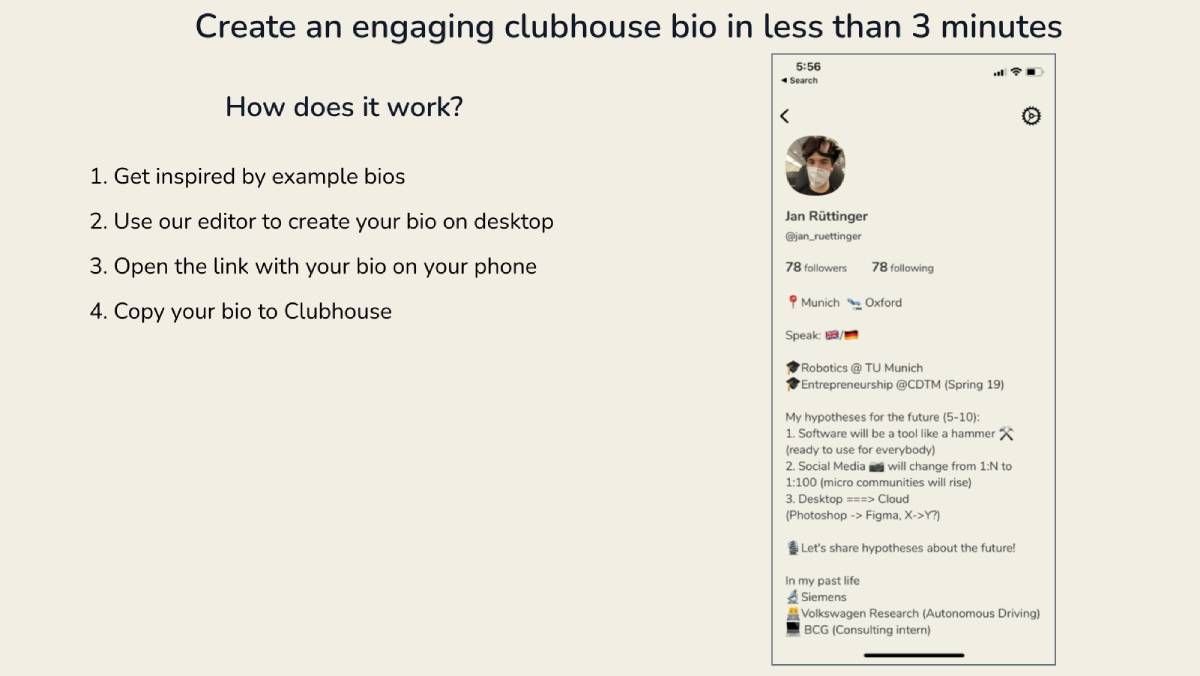 The top influencers on Clubhouse have a well-formatted bio that mixes text and emojis to quickly convey what they're all about. It's also easy to read, with the right spaces and breaks. If you find it easier to create this on a computer than a phone, use Clubhouse Bio Creator.
The web app features a simple text editor with a full emoji palette to copy-paste. The rest is as simple as typing with your standard keyboard and making spaces as you see fit. Once you're done, copy-paste it to the Clubhouse app.
Clubhouse Bio Creator also shows you a few examples of bios to inspire you but use that only as a template. The idea is to be creative and unique, after all.
5. Chpic (Web): Add a Colorful Ring to Your Clubhouse Profile Pic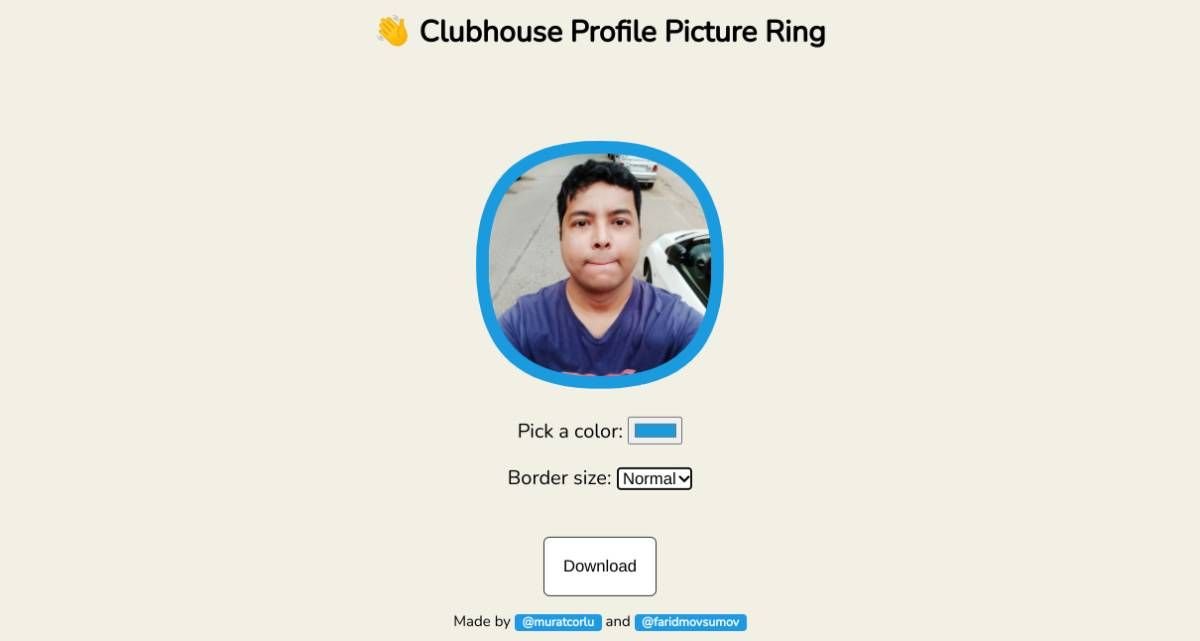 You must have seen some profiles on Clubhouse where the user has a colorful ring around their picture. It pops out, doesn't it? And makes them easier to spot in a room full of other people. It's easy to create this for your profile photo with Chpic.
Upload your picture to the web app, and choose the color of the ring you want. You can pick between three thickness levels for the size of the ring. Once you've got what you want, download the edited photo, and then make it your Clubhouse profile picture. It couldn't be simpler.
6. Rooms of Clubhouse (Web): Discover the Best Clubhouse Rooms Open for Public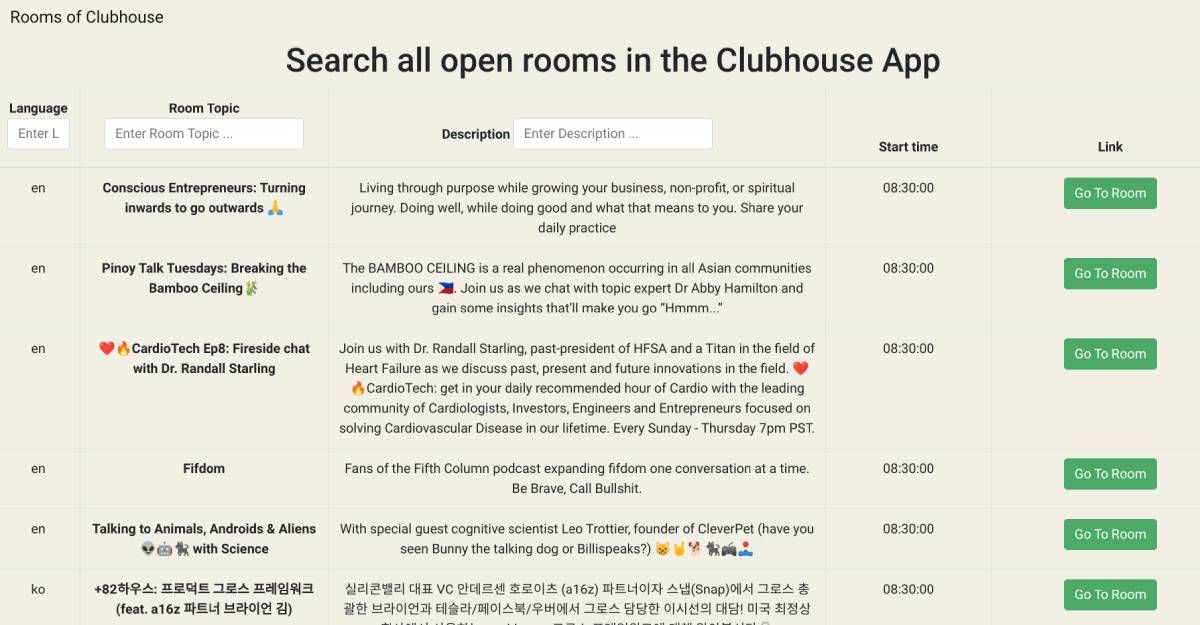 Clubhouse is all about the rooms you enter to get the most out of it. The app shows a few upcoming rooms you're probably interested in, and you can browse a larger listing through the calendar. But these are still based on your contacts and interests. What about stuff outside your bubble?
Rooms of Clubhouse is an open directory that lists all publicly available rooms on Clubhouse. In a neat table, you'll find the language, room topic, description, start time, and a link to go to the room. You can filter the rooms by the first three categories, which makes it easier to find something in your language or topic of interest. It's best to search by description to find niche subjects.
This is a simple website, so you'll be browsing it in Safari or your preferred browser. If you like what you see, tap the link to open it in Clubhouse and add it to your calendar.
The Many Clubhouse Alternatives
These sites and apps will help you get the most out of Clubhouse. But it's still a new social network, and the question remains, does it have what it takes to last? Twitter Spaces is an upcoming alternative to Clubhouse, and there are already news items that Facebook is working on a competitor.
Plus, Clubhouse is restricted at the moment to iPhone and works on an invitation-only system. Developers are making Clubhouse alternatives that are open to anyone and work on Android as well as desktop. Before you invest too heavily in Clubhouse, you might want to consider a wait-and-watch approach.